Project Name
Enhancing food security and livelihood of poor small-holder farmers in Zimbabwe
Project Objectives
Improve food supply and livelihoods of poor farmers.
Beneficiaries
Poor farmers who do not receive government agricultural subsidies
Key Activities
Increase production – provide seeds, fertiliser, and farming tools.
Increase food sources: Improve post-harvest management to reduce losses; provide goats for farmers to raise to produce goat meat and milk for food or to sell to increase household income. Some of the lambs produced will be passed on to neighbouring farms, benefiting poor farmers in the community.
Takudzwa is only 21 years old. His mother passed away in 2012, and his father has been seriously ill since 2018, leaving him in the care of relatives.
To take care of his three younger siblings, aged 16, 12 and 11, Takudzwa dropped out to work as a casual labourer, earning a meagre wage (about HK$30) to support the family. The younger siblings also help with the gardening, but unfortunately, climate change has brought about a prolonged drought, and poor harvests have often left the family short of food. Whenever Takudzwa could not find work, the family went hungry all day. Food, living and school fees for a family of four put much pressure on Takudzwa.
The neighbours considered Takudzwa to be a reliable, hard-working, neighbourly young man who always tried his best to get the job done, so they agreed to the EFZ recipient screening and allowed his family to participate in the project, and receive agricultural training and a goat.
Takudzwa, who has never tried to own any livestock, is thrilled: 'Everyone in the community knows I had nothing, but now my family, like the rest of my neighbours, can keep livestock. I've already built a goat pen, and it's great to have a new goat pen for my family! This is my first goat, and it represents the future of many more goats that I will be able to sell to support my younger siblings and give them an education.'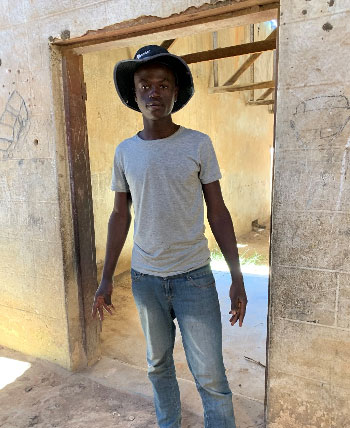 Partner Name
Evangelical Fellowship of Zimbabwe (EFZ)
The Year Our Partnership Started
Partner's Mission
Mobilising, planting and connecting evangelical churches to practice the Great Commission.
(Please specify: 'Development & Advocacy')
After donation, please send a completed Donation Form, enclosing with cheque, bank-in slip or screenshot of successful payment along with your name, contact phone number and mailing address to us via mail, email or WhatsApp.
CEDAR is an approved charitable institution and trust of a public character under section 88 of the Inland Revenue Ordinance. Please visit Inland Revenue Department website for details.
CEDAR Fund will issue a receipt for a donation of HK$100 or above for tax deduction. For a donation of less than HK$100, please get in touch with us to issue a receipt.
Please DO NOT fax any donation information.