Project Name
Empowering Sexually Exploited & Vulnerable Women
Project Natures
Livelihood Development
Anti-human Trafficking
Project Objectives
Empowering vulnerable, poor and marginalised women in Old Dhaka to develop sustainable livelihoods in an environment where support and opportunities are easily accessible.
Beneficiaries
Vulnerable women who are subjected to sexual violence, physical and mental abuse, human trafficking, and lack of vocational training
Key Activities
Enhance personal resilience and capabilities:

Provide training, including gender health knowledge, legal aid, counselling, health check-ups, especially on sexually transmitted diseases (STDs), parenting training, literacy training, etc.
Provide food assistance and anti-pandemic training for low-income families affected by the pandemic.
Establish parent groups to advocate for the abolishment of gender-based violence and the promotion of children's rights.

Provide vocational training and consultation to assist women in developing their careers.
Economic and social empowerment – provide skills training and guidance for operating small businesses in the early stages of business.
Community support and prevention – develop community awareness-raising programs; organise meetings and youth groups; connect women with the community and establish women's self-help groups, provide long-term family counselling and support, such as home visits, and obtain economic resources through savings and loans.
Minnie (pseudonym), 29, lives with her husband and two daughters in a small tin-shed house in the Jatrabari slum area. Her older daughter, Summer (pseudonym, 13), is in 7th grade, and her younger daughter is in 2nd grade. Her husband, Simon (pseudonym), is a rickshaw driver addicted to drugs and neglects Minnie and their daughters, spending the money he earns on drugs. Minnie wanted to find a job to help supplement the family's income, but she couldn't find any work and eventually became a sex worker. Though she doesn't like it, she feels it's the only way to make ends meet for her family.
Minnie had always dreamed of working in a clothing factory. One day, she found out from a relative that the Salvation Army was running an 'Empowerment Program for Women Victims of Sexual Exploitation and Vulnerable Women', and she contacted the staff. With their encouragement, she left sex work and joined the one-year vocational training program. Minnie is a regular and active participant in the program. She has learned how to make children's and women's dresses, pants, shirts, and blouses, among other things. The program also provides a daily allowance of 250 Bangladeshi takas (US$2.9) as an incentive to support the needs of her family.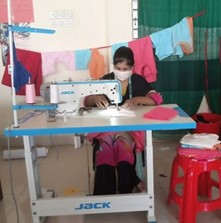 'I now use my neighbour's garment truck to practice making clothes and women's dresses for my daughters and earn money from small orders from my neighbour. Now I earn an average of 2,000 Bangladeshi takas (US$23) a month, which is enough to support my family financially.' said Minnie.
'At first, I only wanted to get a job in a garment factory, but now I want to complete this vocational training to work more efficiently, considering my two daughters' education and livelihood security. In the future, I would like to open a small business that sells garment carts, train girls in the community interested in sewing, get them involved in my business, and expand my business to become self-sufficient.
Minnie added, 'In addition to vocational training, I took a beginner's health education programme and worked with other women to learn about children's rights, women's rights and parenting skills. Now I know about the health and symptoms of long-term diseases, including COVID-19, and how to take preventive measures to protect my family from these diseases. I also received health screenings and treatment support from The Salvation Army. After completing the eight-month adult education program, I will be able to read, write, and do math with ease. I was also able to participate in AIDS Watch Day and Christmas celebrations! I was honoured to participate in these events and learned much from them. During COVID-19, I also received emergency relief from the Salvation Army. It was a great help to our family.'
'I am grateful for the support of the Salvation Army, without which I would not have been able to return to my normal life. Now I hope to complete vocational training and other education to fulfil my dream of living a self-sufficient life with my family.'
Partner Name
The Salvation Army Bangladesh
The Year Our Partnership Started
Partner's Mission
To live and share the Gospel, train believers to respond to the needs of humanity without discrimination in the unconditional and communal love of the Lord.
(Please specify: 'Development & Advocacy')
After donation, please send a completed Donation Form, enclosing with cheque, bank-in slip or screenshot of successful payment along with your name, contact phone number and mailing address to us via mail, email or WhatsApp.
CEDAR is an approved charitable institution and trust of a public character under section 88 of the Inland Revenue Ordinance. Please visit Inland Revenue Department website for details.
CEDAR Fund will issue a receipt for a donation of HK$100 or above for tax deduction. For a donation of less than HK$100, please get in touch with us to issue a receipt.
Please DO NOT fax any donation information.