Project Name
Resettling Internally Displaced Persons in Sadon Town, Kachin State, Myanmar
Project Natures
Urban and Rural Development
Livelihood Development
Church and Community Mobilisation
Project Objectives
Optimise the basic living environment in new resettlement areas, including establishing safe drinking water systems, and connecting power and lighting systems.
Organise community organisations to promote community participation. With the assistance of local churches and FMFF, mobilise community residents to organise community organisations and develop new resettlement areas.
Beneficiaries
Families of the Lisu ethnic group living in new resettlement areas
Displaced persons within the country
No. of Beneficiaries
Approximately 45 Lisu families
350 internally displaced persons
Key Activities
Provide livelihood support (training, farm inputs, savings and loan groups, etc.), community health education, and counselling.
Supply safe drinking water, establish a safe drinking water management committee and establish a safe water supply system.
Establish household gardens to improve food security, distribute seeds and livestock, and provide training on household garden cultivation.
Construct agricultural irrigation systems, and build new water storage tanks and water pipelines for agricultural development.
Connect to electricity and set up lighting systems.
Woo (pseudonym) is a 31-year-old farmer. He was living with six family members in Ngar Htone village in Kachin state. On 10 January 2017, armed groups caused intense warfare, and he and his family had to flee their village. The family journeyed for five days with little food, only one knife, one blanket, and a few baby clothes. They eventually reached a refugee camp in Sadon. On the way, his wife and children were very scared by the sound of gunfire.
Before the warfare, they had pigs and cows, but they could not bring them along during the war. When they reached the refugee camp, there was not enough food, but thankfully the Lisu Christian Church gave them some vegetables. Three months later, FMFF staff visited their family and distributed food and rice to them, as well as education and healthcare for the children.
Woo says: 'Whenever FMFF staff came to visit us, we prayed together and asked God for a safe community and rebuilding our homes. Through God's grace, we were able to know FMFF and CEDAR, the two organisations that truly love and care for our Lisu people for many years.'
Woo's family prays and blesses the staff of the two organisations every Sunday, and prays for peace. Woo's family hopes to rebuild their home soon.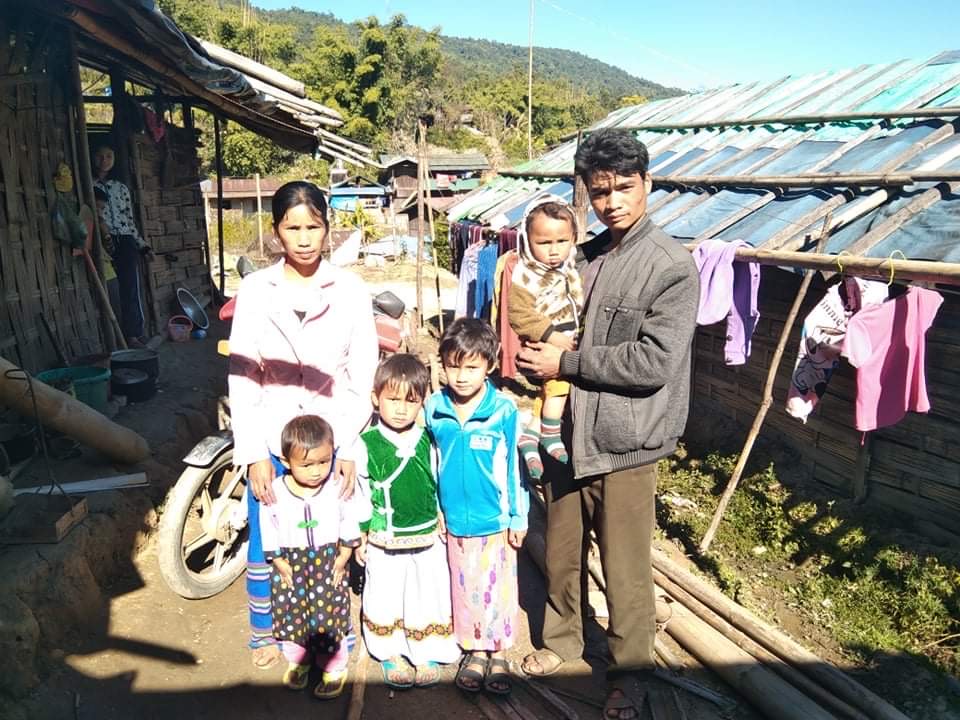 Partner Name
Full Moon Family Foundation (FMFF)
The Year Our Partnership Started
Partner's Mission
Serving the poor, helping orphans and youth in conflict-affected areas and communities, assisting refugees, and rebuilding peaceful communities.
(Please specify: 'Development & Advocacy')
After donation, please send a completed Donation Form, enclosing with cheque, bank-in slip or screenshot of successful payment along with your name, contact phone number and mailing address to us via mail, email or WhatsApp.
CEDAR is an approved charitable institution and trust of a public character under section 88 of the Inland Revenue Ordinance. Please visit Inland Revenue Department website for details.
CEDAR Fund will issue a receipt for a donation of HK$100 or above for tax deduction. For a donation of less than HK$100, please get in touch with us to issue a receipt.
Please DO NOT fax any donation information.