'My family and I had a freaking cold winter last year. We couldn't afford wood or fuel for warmth. We could not but burn off such burnable things from nylon to shoes. Each time when it rained, the water leaked through the roof, and we had to put buckets all over the house. When the snowstorm came, the heavy snow collapsed our roof.'
As we live in Hong Kong, we may not be able to experience how deadly cold these winters are, but through the above words, we may know that cold winters are constant threats to the poor.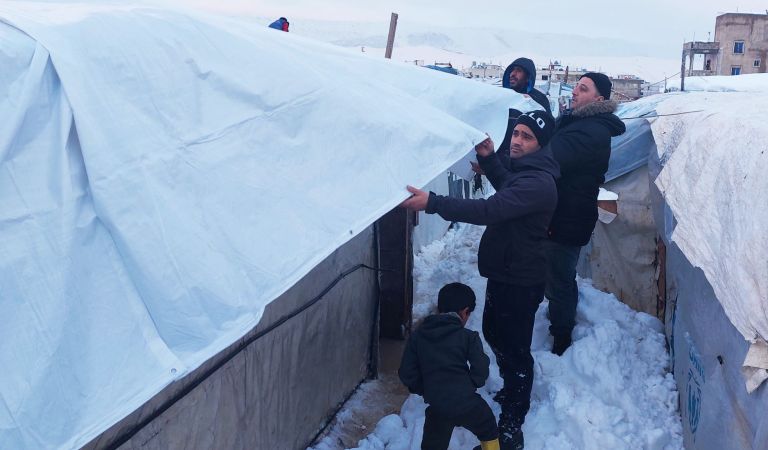 The miseries of Khadija (pseudonym), who struggled hard to survive in the winter, are even more. She used to live with her family in Syria in peace and safety with no lack of anything. When the civil war broke out in Syria in 2011, her homeland was destroyed, and the good life of this family had gone. In 2014, she and her children fled to Lebanon by taking a vehicle but changed to walking over mountains due to the closure of country borders.
Through many attempts and hardships, she and her children ultimately fled to Lebanon. However, the whole family was already separated. Her husband was too old, and some kids were too young to escape. Since then, Khadija has never seen her family in Syria again.
She and the rest of her family members were settled in a refugee camp in eastern Lebanon. They had to build their own tents out of wood and tarps. A family of eight has since lived in this foreign land, where Khadija's son and daughter-in-law gave birth to two daughters. Khadija is in constant worry about the family's everyday expenses.
Without a stable source of income, Khadija and her family live on assistance, such as the distribution from the United Nations to each registered refugee of an approximate cash equivalent of HK$97 (as calculated at the exchange rate at the time of the interview) per month, with a maximum of six persons per family. Therefore, Khadija's family of eight can only live on about HK$580 (editor's note: according to the local partner of CEDAR, the United Nations will reduce one-fourth of the total aid to refugee families. If Khadija loses this aid, her situation will be worse). In summer, Khadija can do casual work and earn a daily wage of an approximate cash equivalent of HK$11, but she has no chance to earn even this slender income in the wintertime. She has to afford the constant expenses of HK$58 as rent payment plus the electricity fee of HK$97, which already accounts for a quarter of Khadija's household income. Coupled with Lebanon's uncontrollable inflation, the sharp increase in daily living expenses put Khadija under huge financial pressure.
'Life in the camp is becoming more unbearable. We could not get most of the things we need, even the bread which we find so expensive… There is nothing we don't need.'
Life in the refugee camp is unbearable. Khadija and her family need to cut down on food and clothes to survive. They could only eat one meal a day with bread only. It is a distant dream for their children to go to school. Without sufficient money, Khadija could not afford to buy medicine to treat her illness, not to mention the purchase of an electricity generator for their home (the local government only provide an electricity supply of a few hours per day).
Khadija's family received help from brothers of a local church, such as the provision of food boxes (which has stopped over the last year) and the repair of her collapsed roof. However, it could not ease the worries that Khadija has as to the reality: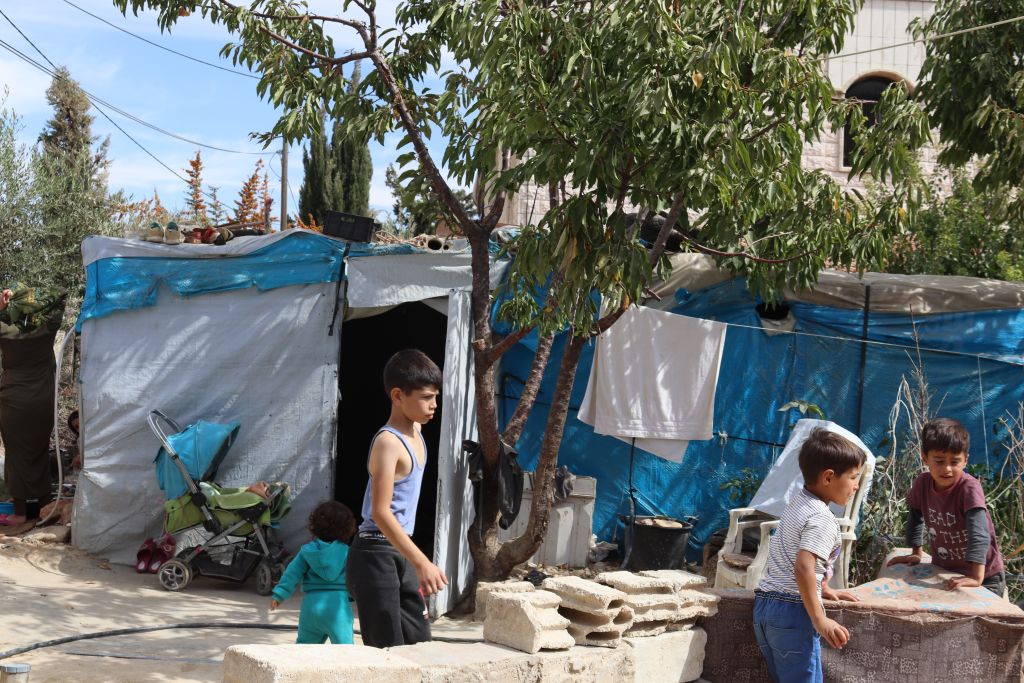 'We feel very worried about the coming winter, which could be as bad as last winter or even worse. We desperately need mattresses and blankets. As you can see, we don't even have one here. My son and my daughter-in-law have two small blankets only, but they have two kids and are expecting a third child. We cannot make each of us warm. Things are more expensive than in past years. There is nothing we can afford.'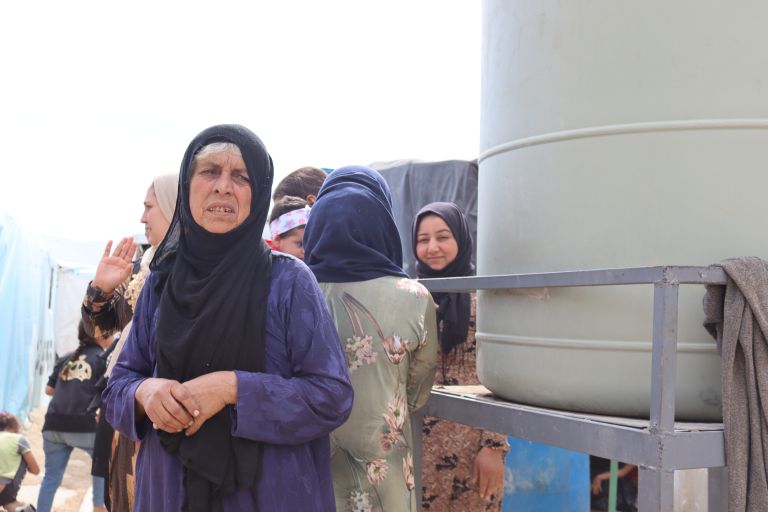 Besides the homelessness, the destitution and the high prices, it is even sad to know that the only Khadija's family could do is huddle at home this cold winter. What's more, the heavy weight of snow may collapse their roof at any time, as happened last year with no one getting hurt, fortunately. However, another winter is coming close. Khadija and her family have to face again the threat of the bitter cold.
This year, CEDAR continued to work with local partners and allocated HK$234,000 to support the impoverished people in war-ridden Syria and Lebanon. They are helpless in the cold winter. While living in Hong Kong with enough food and warm clothes, are we willing to give little care and let the refugees and the local poor, in desperation and threats, have a chance for enough food and warm clothes?
Syria:
Distribution to impoverished families in 12 regions: blankets, boots, hats, jackets. The expected number of recipients is 26,950.
Lebanon:
Distribution to impoverished families in 4 regions: blankets, mattresses, jackets, emergency lights, tarps, carpets, and heating fuel vouchers. The expected number of recipients is 21,000.
Please support the families in poverty;
you can donate:
(Please specify: Winter Assistance to Syrians 2022-23)
After donation, please send a completed Donation Form, enclosing with cheque, bank-in slip or screenshot of successful payment along with your name, contact phone number and mailing address to us via mail, email or WhatsApp.
CEDAR is an approved charitable institution and trust of a public character under section 88 of the Inland Revenue Ordinance. Please visit Inland Revenue Department website for details.
CEDAR Fund will issue a receipt for a donation of HK$100 or above for tax deduction. For a donation of less than HK$100, please get in touch with us to issue a receipt.
Please DO NOT fax any donation information.
If the donation exceeds the above mentioned allocation of funds, the excess amount will be transferred to CEDAR's 'Emergency Relief and Disaster Preparedness Fund'. The fund will enable us to respond to immediate needs, and support disaster mitigation in poor nations always being hit by disasters to reduce the amount of devastation.