Banner image: Herda, elder of Boladangko Church (Right) and Cynthia, who lost her father
Written by: Jady Sit (Communications Officer)
In early November 2018, a few CEDAR's staffs visited Sulawesi of Indonesia to learn about the local conditions from partner PESAT and visit families devastated by the earthquake. The article below is our staff's sharing after her visit. If you would like to understand more about CEDAR's relief work there, please visit the page "Indonesian Earthquake and Tsunami Relief".
"During the earthquake, the door was locked, and thus Cynthia's father was trapped inside the house. When it collapsed, he died," Herda, an elder at the Boladangko Church, said emotionally with her arm surrounding Cynthia.
Sulawesi was struck by an earthquake on 28 September 2018. It was in the evening, when most of the Boladangko villagers were at home, including Cynthia's father. Boladangko is located at a remote mountain area in central Sulawesi, and Cynthia works in Palu city. Due to the earthquake, transportation on land was disrupted. She walked 6 hours on foot to her village and found that her father had passed away. Cynthia's father helped out in relief work during the 2012's earthquake, in which he took care of other affected brothers and sisters and overcome the difficult times with them.
Cynthia remained silent and only had her eyes on the ground during the whole interview. She tried hard not to recall the moment she discovered her father's corpse. Herda, as an elder of the church, represented Cynthia and other devastated villagers to tell us about the destructive power of earthquake and their pain. I recalled the rubbles, broken walls, damaged sofas and bed mattresses we saw lying in ruins when our cars entered the village.
At the sight of their looks and tears on their faces, I struggled at heart. Their feelings towards sudden loss of family, of father, and of all properties was incomprehensible to most of us, who live in a place that was never hit by disasters.
There were over 200 people living in the village and almost 80% were attending Herda's church. Our partner, PESAT, distributed emergency food and items like cooking stove and cooking utensils in the village, and played games with devastated children to help relieve their trauma.
Herda emphasised again and again: "We are very thankful for the care and assistance from Hong Kong's brothers and sisters, CEDAR Fund and PESAT!"
Before we left, I asked her how Hong Kong's churches could pray for them. Herda, who had been tough throughout the interview, could not hold back her tears anymore and said, "I don't have much to pray for… I just pray that the church could be rebuilt, and I would keep strengthening our brothers and sisters, and caring for their needs."
Over four days of visit, we had been to remote villages in the mountains, coastal communities and liquefied inland regions in Palu. We witnessed the desolation brought by the earthquake and tsunami, and the destruction of soil liquefaction. We also heard many stories of women losing their husbands, families found their ruined homes, fishermen had their fishing boats and fishing tools carried away by tsunami waves, and children still living in horror and could not sleep well at night.
Witnessing all the devastation caused by the disaster and hearing disheartening stories made us feel inevitably helpless. While I was still overwhelmed, we arrived the last stop of our visit: a church in Palu, where we met Pastor Tinbul and Deacon Kosbin. Right after the disaster, they opened the church compound for affected congregation to take shelter. They provided with their food stored at home for siblings sheltering at church. They gathered whatever food they had at home to cook for the congregation. Our partner also distributed cooking kits, oil, rice, salt and sugar to the church, and organised trauma healing session at the church for adults and children to ease their post-trauma stress.
Pastor Tinbul and Deacon Kosbin moved us with their determination in responding to the needs they saw, despite their zero-experience in emergency relief work, because they believe the church is obligated to help in times like this. So, they utilised their connections and collected simple materials to build tents that accommodated 18 families. On the day of our visit, some families had already found temporary accommodation, and other 11 families chose to stay in tents.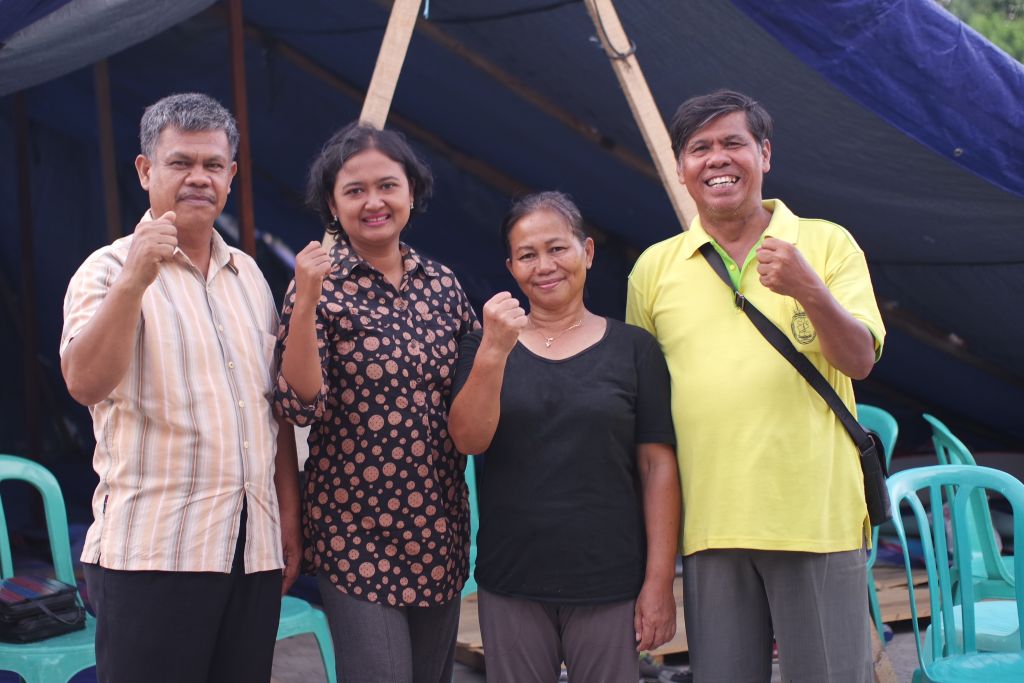 I could feel the compassionate and persistent spirits of pastor and deacon from our conversation. When I asked how they comforted congregation's wounded heart and helped them regain their hope, Pastor Tinbul said, "We provided food and accommodation, and we tried to provide whatever assistance they need. I also read the Bible and sang praises with them to strengthen their faith." It sounded simple, but not so.
I asked again, "Which Bible verses or praise songs do you use to encourage them?" And they sang a very familiar hymn:
Although I did not understand Bahasa, the familiar melody and warm voice of singing healed my overwhelmed soul at once.
We have seen widespread devastating in central Sulawesi, and heard about sudden losses of and hopelessness in families. Yet, we have also witnessed the selfless efforts and companionship of local organisations and churches to the weary.
Prayer
May our Lord reinforce the leaders of local churches. We are thankful for their willingness to care for the souls, hearts, and health of the suffering, despite they have also been affected by the disaster. Lord, please use our brothers and sisters there to shine your light of hope on the survivors.  We pray for Indonesian Government and local organisations that they know how to help the devastated communities resume their livelihoods and rebuild their communities effectively. May Lord Jesus come and heal every wounded soul and give them companions. May God use CEDAR and PESAT's ministries, churches' and believers' prayers and offerings to bless weary families in Sulawesi. Amen.
(CEDAR and PESAT are implementing a second phase of response work there, click to view details.)