Since December 2018, the conflict between the Tatmadaw (Myanmar's military) and the Arakan Army (AA, Rakhine rebels) in southern Chin State and northern Rakhine State had escalated, which had caused 6,000 people homeless till the mid of February. In the first week of February, there were over 180 villagers from Paletwa in Chin State fled to Bangladesh. CEDAR's partner in Myanmar stated that there were at least 20 temporary campsites built along the border. The diaspora sojourning in the campsites urgently needs humanitarian aids now.
CEDAR funded our partner* USD 18,000 (approximately HKD 141,300) this February to provide 6 days of food and blankets to 218 families from Paletwa in the temporary campsites. Temperature difference at the campsite areas is large that temperature at night could drop to 6 degrees Celsius. Temporary campsites' living conditions are unsatisfactory: campsites are simply constructed with bamboos and canvas only, location is too remote for delivering food and resources. Villagers are obviously in acute need.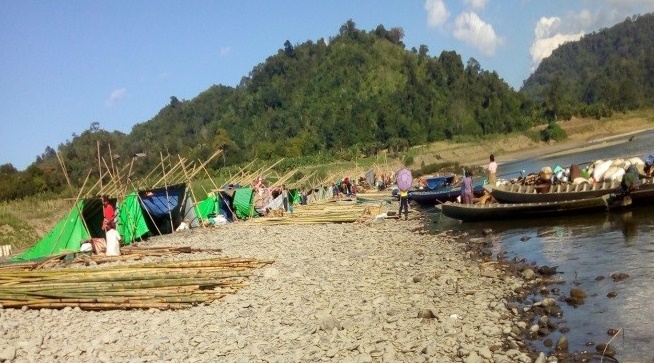 In this emergency relief project, we are partnering with Pastor Aung Din and his team, who are experienced in emergency relief, to ensure the delivery of resources to the campsites. Aung Din was born in Paletwa and is very familiar with local situation. He has also led many emergency relief projects. In this January, when the Myanmar's Government ordered the military to launch operations to crack downon the AA, Aung Din realised the intensifying condition and immediately collected and distributed resources, including food like rice and dry fish, to around 70 families, and built more than 40 bamboo huts as their shelters.
Due to inconvenient transportation and roads blocked by the Myanmar's military, some campsites are only accessible by two days of walk, but we will work closely with the team of Aung Din and report the latest condition timely. We also need your prayers dearly, and your response to their urgent needs.
We plan to provide the following items:

• Food (Rice, fish sauce, salt, bean, dry provision, nutrition food for infants, pregnant and lactating women)

• Blankets
Beneficiaries: the discriminated tribe in Chin
This project will benefit 218 families from a marginalised tribe in Chin, in which some are believers of Jesus. They originally resided in a forest nearby the border between Myanmar and Bangladesh or India. They are different from many Chin people in the Chin State who can speak English, that this tribe has almost no connection with the world outside and only a few of them have received formal education. In view of the difference in language and culture, they have been suffering from discrimination in their own country. In this recent conflict between the Myanmar;s military and the AA, the AA's members hid in the forest area and the Myanmar Army attacked with helicopters. This tribe was coerced to leave their home.
According to our partner, the needs of the diaspora are huge. To provide three months of living and medical needs for around over 2 thousand refugees, our partner needs approximately USD 267,000. In fact, apart from emergency relief, resettlement of these refugees in the future also needs external assistance depending on the conditions of conflicts. CEDAR Fund calls for your support and partnership. If the amount of offering is eventually more than the grant, we will definitely discuss further with our partner to understand the long-term needs of the refugees, such that the support from your generosity can be maximised.
*Our partner in Myanmar is Full Moon Children Development Family. Full Moon has already collaborated with Pastor Aung Din in ministries for 8 years. They are under the same network of Christian Children Home in Myanmar. Aung Din has also registered youth organisations in Yangon and Chin State to serve the youths.
(Photo credit: Full Moon Children Development Family)
(Please indicate "Assistance to Refugees in Myanmar")
After donation, please send a completed Donation Form, enclosing with cheque, bank-in slip or screenshot of successful payment along with your name, contact phone number and mailing address to us via mail, email or WhatsApp.
CEDAR is an approved charitable institution and trust of a public character under section 88 of the Inland Revenue Ordinance. Please visit Inland Revenue Department website for details.
CEDAR Fund will issue a receipt for a donation of HK$100 or above for tax deduction. For a donation of less than HK$100, please get in touch with us to issue a receipt.
Please DO NOT fax any donation information.
If the donation exceeds the above mentioned allocation of funds, the excess amount will be transferred to CEDAR's 'Emergency Relief and Disaster Preparedness Fund'. The fund will enable us to respond to immediate needs, and support disaster mitigation in poor nations always being hit by disasters to reduce the amount of devastation.