A mobile devotion app with the theme of justice, poverty alleviation and integral mission is officially launched! Download now!
The '施予達仁' mediation app aims to help Christian to have spiritual foundation from different angles, broaden their religious horizons, bring God's words in action, and respond to the needs of this era.
The devotional articles in '施予達仁' mediation app cover different categories such as 'Creation Care', 'Integral Mission', 'Peace and Reconciliation', 'Anti-Human Trafficking', etc. The themes involve justice, peace, poverty alleviation, Mission, human rights, integral gospel and church views, written by seminary teachers, church pastors, leaders of Christian institutions and Christians from various professions, through scripture meditation and sharing once a week, to root the faith together, care for neighbour in the world.
Download now to taste devotional messages. In the world full of chaos, be a Christian who spiritually refreshed and know how to respond to the society.
promotional video (Chinese only)
'施予達仁' Devotion app update notice
We are preparing for the second level service update, including online Bible reading which have the function of using colours to mark quotes and saving quotes, to help everyone getting closer to God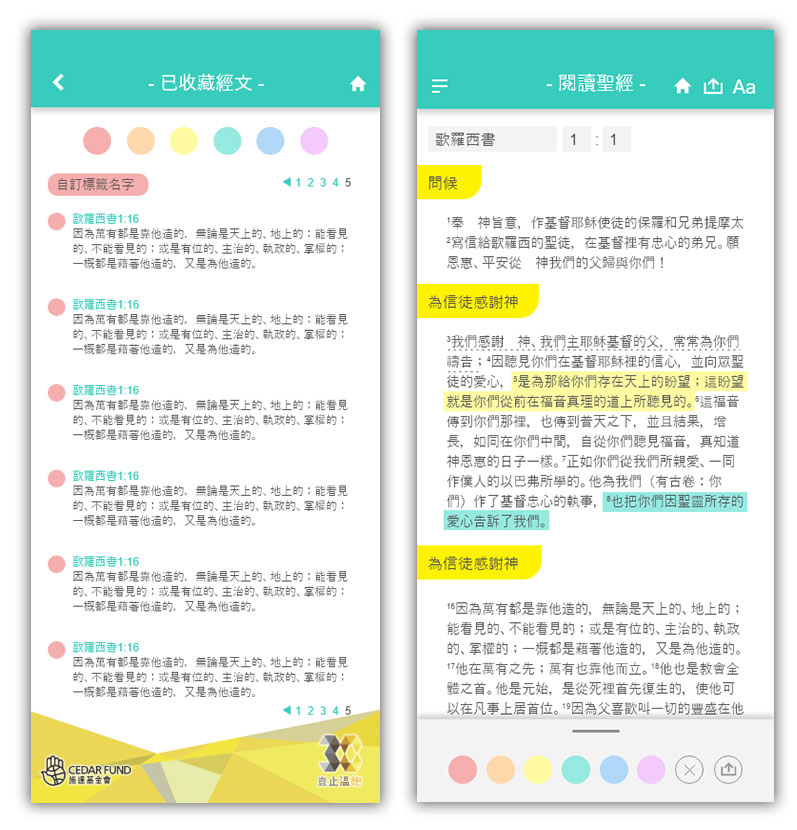 Please donate to support! Let's help Christians know more about integral mission, care our world and poor neighbourhood.
(Please specify: Education)
After donation, please send a completed Donation Form, enclosing with cheque, bank-in slip or screenshot of successful payment along with your name, contact phone number and mailing address to us via mail, email or WhatsApp.
CEDAR is an approved charitable institution and trust of a public character under section 88 of the Inland Revenue Ordinance. Please visit Inland Revenue Department website for details.
CEDAR Fund will issue a receipt for a donation of HK$100 or above for tax deduction. For a donation of less than HK$100, please get in touch with us to issue a receipt.
Please DO NOT fax any donation information.