"We are 'doing gospel', not only 'spreading gospel'. Through our witness indeed, more people can receive the bread of life from the Lord through food assistance," said by the representative of the Church on The Rock Yan Shing Church
"Our church has only around 100 people and many of them are grassroots people, therefore we do not receive many donations. CEDAR's 'Journey through Pandemic Crisis – Short-term Food Assistance' Funding Scheme has encouraged our church. After the completion of the food assistance project, we have allocated the same amount of fund (HK$60,000) previously funded by CEDAR to carry out the second phase of the project. In doing so, we have reached out to some disadvantaged groups that we have never met,"said by the representative of the Church of Livingstones Shek Lei
Under the gloom of the pandemic, CEDAR established the "Journey through Pandemic Crisis – Short-term Food Assistance" Funding Scheme in May this year. A total of HK$740,000 was allocated to support 16 local churches to provide food, supermarket coupons, free lunch boxes, etc. to the needy, including the families living in subdivided units, the homeless, the new immigrants, the ethnic minorities and refugees. The total number of beneficiaries exceeded 3,500, of which a quarter was the grassroots neighbourhoods that were newly contacted by the churches.
During the pandemic, our partner churches were unable to host physical worship services, thus inevitably affecting their income from offerings. Yet, they have not forgotten the needs of the disadvantaged groups. Through this scheme, some of the 16 partner churches have re-established food banks, some have changed the canteen ministry in subsidising grassroots families to buy food, and some have planned to further expand the scope of social services and set up a team to visit the beneficiaries regularly after the completion of the project.
The following are the sharing from the beneficiaries and the volunteers:
A beneficiary said: "We really don't know what to do. I am a full-time housewife. I take care of two children at home. I rely on my husband who works in the construction site to support the family. Who would have thought of a pandemic! This pandemic was coming quickly and also violently… My husband has been underemployed for a few months. In the past six months, our household income has fallen sharply, and we two have no ideas on what to do. When we were worried about the living expenses, we had a friend telling us about your church (The Church on The Rock Yan Shing Church) and received timely help from the CEDAR Fund, so that my family's economy was temporarily relieved. I hope that this 'uninvited guests' (pandemic) will soon leave us, and I would like to say sincerely here, 'Thank you Jesus, thank you CEDAR Fund.'"
A volunteer shared: "Ms. Lam (lost her income for several months) has a five-year-old child at home. This woman would lose her job if she wants to take care of her son. Also, she mentioned that her flat is very small and she dared not to go out due to the pandemic. In this way, her husband was responsible for buying food, and she had to stay in the cramped home to do chores and take care of her son. She has repeatedly expressed that she was so depressed and did not know what she can do! After several visits, I found that her situation had changed and become more relieved, and she was willing to know more about Jesus. I hope that with our immediate support sponsored by the CEDAR Fund, some people will be walking with her, and she can feel the love in the world and be more joyful."
During CEDAR's visit to partner churches, we filmed how two of these churches provided food assistance to the homeless and refugees:
Serving the unemployed and homeless (Chinese only)
Serving refugees (Chinese only)
In addition, CEDAR held the "Journey through Pandemic Crisis – Short-term Food Assistance" Funding Scheme's sharing session on 17 November, inviting partner churches to share their experiences of God's grace and serving the communities in this ministry.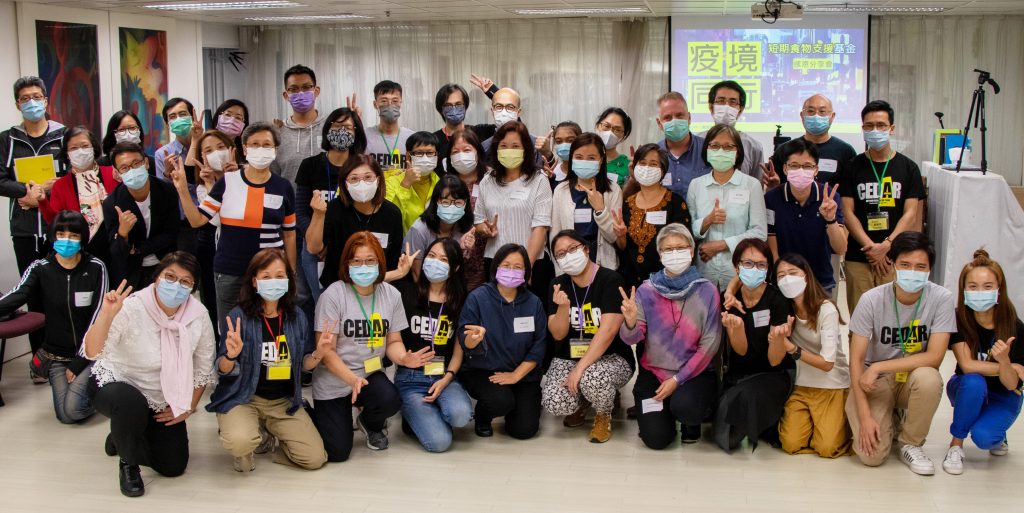 Thank you churches for walking with us. Here are 16 partner churches listed in alphabetical order:
Abundant Grace Christian Church
Christian Perfect Church
CNEC Hung Hom Christian Church
CNEC Sheung Shui Christian Church
CNEC Sweet Aroma Church
E.C.F. Kowloon Canaan Church
Eternal Grace Lutheran Church
Grace Baptist Church
Hamony Baptist Church
Kowloon Union Church
Remembrance of Grace Church (Kwai Chung Church)
Shepherd Community Church
Tai Kok Tsui Foursquare Gospel Church
The Church of Christ in China Chuen Yan Church
The Church of Livingstones Shek Lei
The Church on The Rock Yan Shing Church