Since the drawdown of U.S. military forces from Afghanistan in April, tension continues to escalate in Afghanistan. In the past two months, Taliban attacked multiple cities, taking the situation to the state of 'an ultimate war' as portrayed by media. Recently, Taliban officials announced that they now take control of 85% of territory in Afghanistan.
As brutal as wars are, people who could not fight back nor escape are the innocent citizens. With both wars and the pandemic raging in the country, Afghans' lives have gone from bad to worse – losing family members, homeland, property and income. According to United Nations Office for the Coordination of Humanitarian Affairs (OCHA), food and hygiene products are of highest demands in the country.
CEDAR Fund donated HK$195,000 as relief fund, which covers the food and sanitary expenditure of 320 families (approximately 2,500 people) for 30 days, to our partner in Afghanistan. As of the procedure, we first coordinate with OCHA to confirm the relief aid recipients, then liaise with the local government to designate a safe location for item collection. Details are as follows:
Hygiene products: surgical masks, handwashing soap, laundry soap, toothbrush and toothpaste.
Food: rice, flour, beans, cooking oil and salt
Please pray urgently for Afghanistan and its people, and willingly make offering to support our work as we walk with the victims in the dark.
A story of our aid recipient
Razia (pseudonym) is a widow from Afghanistan. Her husband and her older son both died in a civil conflict, consequently, Razia is left with a disabled daughter and a younger son who is only 9 years old. Their living standard is extremely poor with little to no income, so the little son became the breadwinner by selling plastic bags at the market. With the pandemic and no savings, the only income that could barely support the family is stripped away as well. When the issue first arose, Razia requested to buy food on credit from the grocery. However, it didn't last long, the grocery store completely ignored Razia.
By God's grace we have connected with Razia, which allowed us to help her family by sending forth emergency aid including rice and oil. Razia is grateful and she appreciates that our help came right in time.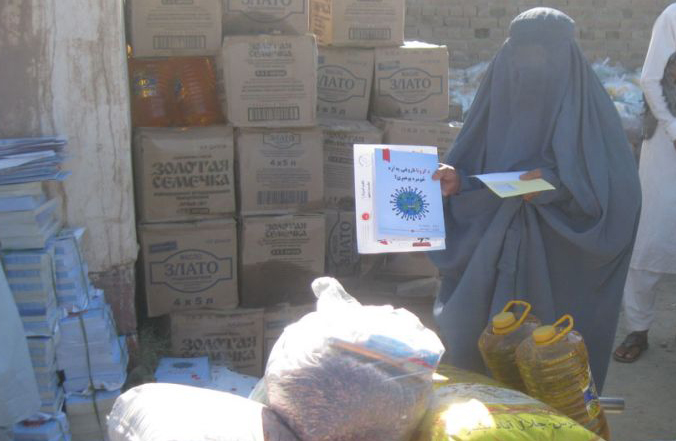 Thank you for the timely assistance, my family and I would not have made it through without your support.

Razia
Banner image: The Guardian
(Please specify: Relief in conflict zones of Afghanistan)
After donation, please send a completed Donation Form, enclosing with cheque, bank-in slip or screenshot of successful payment along with your name, contact phone number and mailing address to us via mail, email or WhatsApp.
CEDAR is an approved charitable institution and trust of a public character under section 88 of the Inland Revenue Ordinance. Please visit Inland Revenue Department website for details.
CEDAR Fund will issue a receipt for a donation of HK$100 or above for tax deduction. For a donation of less than HK$100, please get in touch with us to issue a receipt.
Please DO NOT fax any donation information.
If the donation exceeds the above mentioned allocation of funds, the excess amount will be transferred to CEDAR's 'Emergency Relief and Disaster Preparedness Fund'. The fund will enable us to respond to immediate needs, and support disaster mitigation in poor nations always being hit by disasters to reduce the amount of devastation.