Banner picture: CEDAR's partner
Since Myanmar's coup d'état mere months ago, numerous countries and communities expressed concern and condemnation towards the junta's seizure of power and the impact of this cataclysm on the nation and its people. From the year Myanmar gained independence, insurgencies have plagued the country's history of internal conflict, the civil war between the country's military forces and its ethnic armed groups being the most notable of all. As for the ethnic minorities who live on Myanmar's war-torn borderlands, they have been caught in the crossfire for decades, enduring incessant oscillations between discord and armistice while living in constant terror. To relieve those residing amid warzones, we will circulate food assistance to residents of the Kayin state situated in eastern Myanmar, simultaneously providing emergency resettlement and various aspects of welfare support for residents displaced by warfare in Myanmar's northernmost state, Kachin. This project will aid an estimated 260 Lisu people from the Kachin State.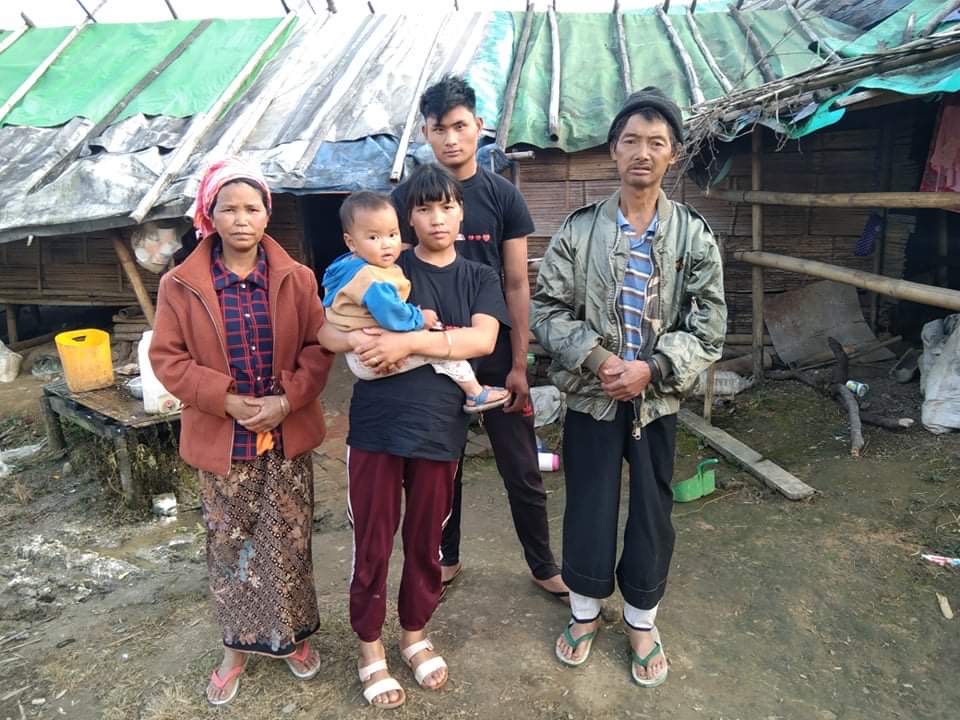 The story below follows U Byar Lay of Lisu descent and his family's tale of escape:
With four decades of agricultural experience and a family of five to feed, U Byar Lay is a vegetable farmer who managed to flee from war-induced chaos years ago. Following the guidance of David Fish, an old pastor of a Lisu church, U Byar Lay found a Sadon refugee camp located in the small town of Myitkyina County, where he later brought his family to settle down temporarily. The war destroyed the village he and his family initially inhabited, and they could no longer return to the place they once called home, having lost their land and all their belongings. To this day, U Byar Lay still vividly remembers the fearsome, harrowing circumstances that lead to their abrupt departure and subsequent displacement.
The Lisu people of Kachin, bearing the status of ethnic minorities and Christians, means that U Byar Lay and the people who share his ethnic origins have continually been rejected and segregated by the government and even the people of Kachin. In June of 2018, the Myanmar government announced their plans to shut down temporary camps in various areas, and since May of 2019, the Kachin State government has provided relief to affected refugees. However, U Byar Lay and the other Lisu people who lived in those camps never received any aid or assistance from the relevant authorities, despite reliving yet another impending displacement crisis. His home no more than rubble, with even his temporary place of refuge about to expire, is there anywhere left for U Byar Lay and his family to seek asylum?
We are blessed and grateful that a local church donated a four-acre plot of land to these Lisu families. We aim to aid the Lisu people by providing them with suitable residences in hopes their new homes can get them back on their feet, helping them lead new lives. In March of this year, the CEDAR Fund will sponsor the Full Moon Family Foundation (FMFF) and the Flower Lisu Evangelical Church (FLEC), collaborating with these organizations to commence the first phase of a three-year-long resettlement plan. The key details of the project are as follows:
Year One
Provide basic needs, including – but not limited to – housing construction; water supply and hygiene facilities; land registration and management; education; medical services; and more.
Year Two to Year Three
Livelihood support (such as providing farming training and agricultural resources, establishing farming societies and mutual aid groups, etc.); providing medical services and psychosocial support.
We calculated the first year's project expenditure to cost an estimated HK$743,000. Due to an endowment allocated by the CEDAR Fund, the Lisu people have finished levelling slopes and have begun constructing houses. During the progress of this project, the Lisu Church will continue providing emotional and spiritual support to our beneficiaries, assisting and accompanying the Lisu people in the development of various community facilities to ensure their settlement as soon as possible.
Our project is not merely about the safe and secure migration of the Lisu people; it is also a matter of reconstructing the infrastructure for an entire community's resettlement. We implore you to support the Lisu people with your prayers and donations so that these former residents from the Kachin State may receive the urgent assistance they so greatly need, as well as the opportunity to begin anew in God's loving guidance.
(Please specify: Relief and Reconstruction in Conflict Zones of Myanmar)
After donation, please send a completed Donation Form, enclosing with cheque, bank-in slip or screenshot of successful payment along with your name, contact phone number and mailing address to us via mail, email or WhatsApp.
CEDAR is an approved charitable institution and trust of a public character under section 88 of the Inland Revenue Ordinance. Please visit Inland Revenue Department website for details.
CEDAR Fund will issue a receipt for a donation of HK$100 or above for tax deduction. For a donation of less than HK$100, please get in touch with us to issue a receipt.
Please DO NOT fax any donation information.
如籌得奉獻金額超出我們的資助撥款,餘款將繼續支持緬甸的戰區重建及扶貧發展工作,長遠與緬甸貧民同行。