Banner image: Villagers who fled conflicts are temporarily living in an abandoned government office building
The conflict between the Myanmar military and the Arakan Army, an armed group fighting for greater autonomy in western Rakhine, has not ceased since December 2018. In June 2019, the Myanmar Government ordered telecommunications companies to shut down mobile internet service across local townships, hindering external access of updated information which the safety of civilians are of concern. [1]
CEDAR Fund and our partner in Myanmar, Full Moon Children Development Family, began the first phase of relief work in the conflict-affected region in February 2019. Collaborating with us in relief distribution was a local team led by Pastor Aung Din, who had rich experience in relief work and had won the respect of the locals as well as the local government (details of first phase relief: CEDAR'S EMERGENCY RELIEF TO 2,100 DISPLACED PEOPLE WHILE CONFLICT CONTINUES IN WESTERN MYANMAR) Just recently, Aung Din told us that he witnessed confrontation between two parties in which the Arakan Army held three villages as strongholds, forcing people to flee immediately. As of now, these people have sought shelter in an abandoned government office building and urgently need emergency assistance.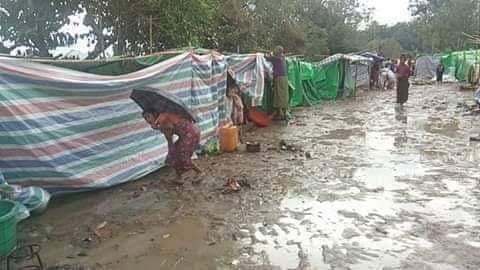 Due to ongoing and increasing demand of the region, we decided to validate our second batch of funds (US$18,000 which is equivalent to about HK $140,000) in June this year to support the relief work carried out by our partner and the Aung Din's team. 363 households (2,472 people in total), including 158 families who were staying inside the government office building, will be benefited from our second phase of relief.
We plan to:

• Distribute food to pregnant and lactating mothers

• Provide textbooks and stationery for the displaced children to go to school

• Provide basic medicines and sponsor 2 medical staff to work at site

• Build 18 temporary shelters with bamboos

• Construct 6 latrines
International awareness of the region has grown since the Myanmar government's oppression against the Rohingya community in Rakhine state in 2017, which has forced around 800,000 Rohingyas to flee from Myanmar to neighboring Bangladesh. Yet, the conflicts in western Myanmar are neglected by the public at large. Both conflicting parties have seriously violated human rights. Among them, the Myanmar military heavily bombed villages and executed extrajudicial murder, causing over 30,000 people fled from their homes.
May the Lord use us to offer help to the needy!
Note:
[1] http://www.aljazeera.com/news/2019/06/warns-telecom-blackout-cover-myanmar-military-abuses-190625023546529.html
(Please specify : Assistance to Refugees in Myanmar II)
After donation, please send a completed Donation Form, enclosing with cheque, bank-in slip or screenshot of successful payment along with your name, contact phone number and mailing address to us via mail, email or WhatsApp.
CEDAR is an approved charitable institution and trust of a public character under section 88 of the Inland Revenue Ordinance. Please visit Inland Revenue Department website for details.
CEDAR Fund will issue a receipt for a donation of HK$100 or above for tax deduction. For a donation of less than HK$100, please get in touch with us to issue a receipt.
Please DO NOT fax any donation information.
If the donation exceeds the above mentioned allocation of funds, the excess amount will be transferred to CEDAR's 'Emergency Relief and Disaster Preparedness Fund'. The fund will enable us to respond to immediate needs, and support disaster mitigation in poor nations always being hit by disasters to reduce the amount of devastation.