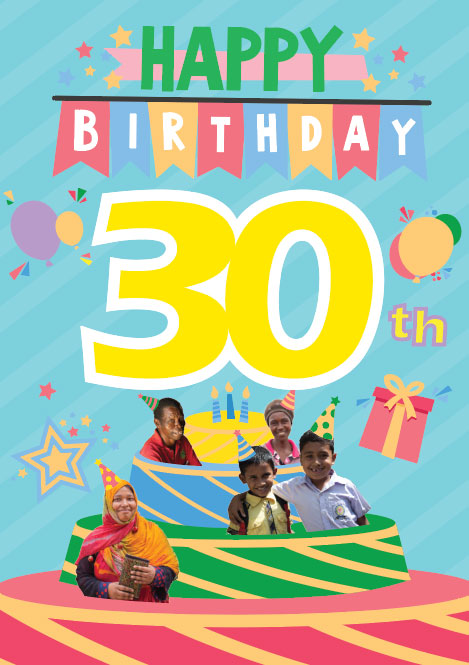 "Beyond Feeding the Poor" is the theme of the CEDAR Fund's 30th anniversary. It reflects CEDAR's work not simply to alleviate the poor's hunger or give them warmth. Our work is to transform the lives of our beneficiaries so that they live out the intrinsic worth and dignity give by our Lord.
As a supporter of CEDAR's ministry, are you considering sending us a blessing on the CEDAR 30th birthday? If yes, we suggest that you transform your blessings into beautiful action by joining our "Beyond Feeding the Poor" donation campaign so that the poor will be blessed as well. Besides, we invite you to write down your blessings on the Birthday Card specially made for the CEDAR's 30th anniversary. We will forward your message to the overseas poor.
Donation

Encourage you to donate HK$30 or more to transform the lives of the poor for the better.
writing down your blessings

Write down your encouraging message on our "Beyond Feeding the Poor" Birthday Card. We will forward your message to the poor overseas.
(Please specify: Beyond Feeding the Poor Campaign)
After donation, please send a completed Donation Form, enclosing with cheque, bank-in slip or screenshot of successful payment along with your name, contact phone number and mailing address to us via mail, email or WhatsApp.
CEDAR is an approved charitable institution and trust of a public character under section 88 of the Inland Revenue Ordinance. Please visit Inland Revenue Department website for details.
CEDAR Fund will issue a receipt for a donation of HK$100 or above for tax deduction. For a donation of less than HK$100, please get in touch with us to issue a receipt.
Please DO NOT fax any donation information.