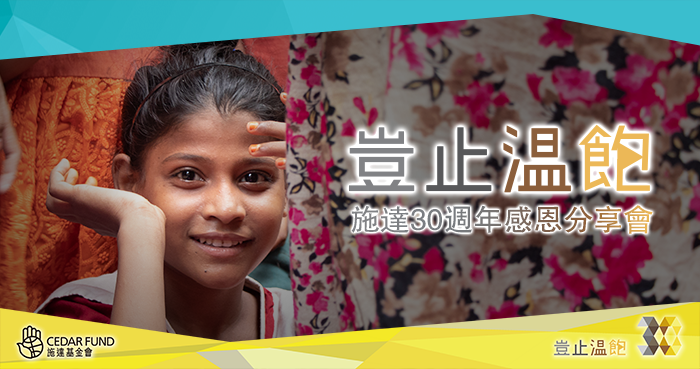 This year is CEDAR's 30th anniversary. To us, it is not just a year of celebration; it is also a year of moving forward while remaining anchored on our core foundation our predecessors have laid down for us.
As our colleagues look back on the past 30 years of working with church partners to serve the poor. All have come to the unanimous decision that CEDAR's work is not simply to alleviate the poor's hunger or to give them warmth. Our work is to transform lives so that they live out the intrinsic worth and dignity given by our Lord.
"Beyond Feeding the Poor" is thus our slogan for CEDAR's 30th anniversary. It accurately illustrates the core beliefs and principles of CEDAR. We are not satisfied with granting the poor with material needs or alleviating hunger and thirst; we care about the poor's holistic development. This includes establishing the networks of the poor with their own communities, building on their connection with God and etc.
To thanks God for leading us to put his mission in action and let supporters understand more about how the Lord help us in caring the poor, we organised the CEDAR's 30th anniversary "Beyond Feeding The Poor" Thanksgiving Sharing Night. We invite you to join us, details:
Date: 9 July 2021 (Friday)
Time: 7:30pm-9:30pm
Venue: E.F.C.C.- Tung Fook Church (11 Moreton Terrace, Causeway Bay)
Content: poverty alleviation projects sharing, new ministry sharing
We encourage you to come with your family and relatives, to bring more people joining to help the poor.
Deadline of registration: 30 June 2021 (Wednesday)
(Due to the epidemic, the venue can only accommodate 300 people, participants must sit in separate seats. Please register to reply in order to make seating arrangement.)