Dear Supporters,
In all of the previous alleviation work that I did, plenty of the projects were around fundamental medical and hygiene health, for these are the starting points for all alleviation work. However, if I compare it with the importance of education, I would think that education is even more critical to solving the problem of poverty.
While the importance of education has been recognised, the implementation remains a challenge, because unlike other health and hygiene projects, it does not have measurable indicators such as the morbidity or mortality rate. As Immanuel Kant said, education is the journey that enlightens reason and understanding, it helps us develop learning abilities and helps us find our place in the world. If children have the opportunity to receive fundamental education, they will get to learn about others' perspectives when adopting solutions to change their circumstances in life, such as changing the hygiene-health conditions for the better, and solving obstacles. This testifies the idiom 'knowledge is power', it has the power to change a life. 
Unfortunately, nowadays, we are seeing many children being stripped of the basic right and chance to receive education as a consequence of natural or human catastrophes. 
In Myanmar, over one million children do not get to go to school, and they are likely to become child labourers who work in extremely poor environments. For those who are orphans, they would have to be homeless and beg for a living. In the recent two to three years, Myanmar experienced a military coup while battling the pandemic, making it even harder for children to attain proper education. All these are perpetually damaging their lives and future growth. 
Started from this year, CEDAR is supporting its Myanmar partners to launch seven Children's Learning Spaces with tutoring teachers to give preschool, fundamental and biblical teachings, and knowledge on self-protection to those who could not attend school due to poverty or safety concerns within their communities. These Learning Spaces keep children from wandering on the streets, reducing the risks of being trafficked or lured and improving the situation of children forced out of learning opportunities due to political fluctuations.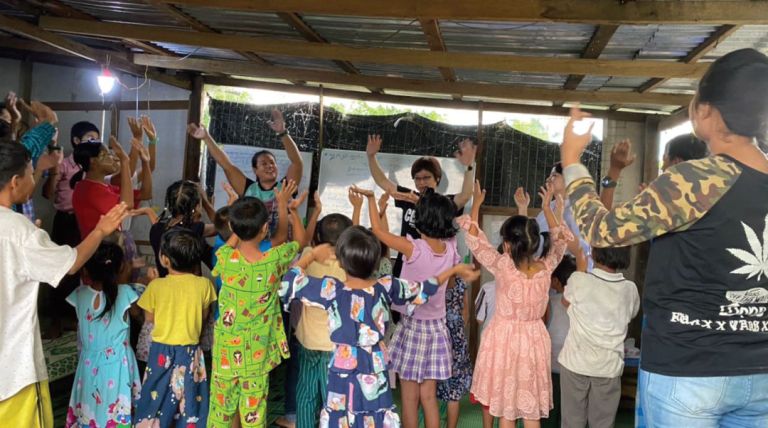 Start children off on the way they should go, and even when they are old they will not turn from it.

Proverbs 22:6, NIV
This biblical verse may only act as a reminder and exhortation to all of us who live in a resourceful society. However, it is a lot more challenging for children to be 'on the way they should go' when they live in an extremely poor country and are under constant warfare. 
May you join us in living out the mission our God has assigned to us, that is to look after His beloved children.
In Christ,
Chan Pui Si
Chief Executive