Written by Edward Lai (Senior Communications Officer)
'Our dream has come true! We may have our new house very soon. We now come here every day to help build the house.' Mg Byar Woo, a ten-year-old boy in Myanmar said excitedly.
He invited CEDAR Fund's partner, Fullmoon Family Foundation (FMFF), to his current temporary shelter and said, 'every family has only a small living space. We sleep and cook in the same room.' His family slept on the same narrow bamboo bed with neatly folded sheets.
Though the temporary shelter was crowded, at least he and his family were safe. In his mind, not only his family was safe, but also over 40 other Lisu families, who had gone through the same adversity and displaced within the country.
Flee for Safety
Years of civil war in Myanmar destroyed the place where he originally lived on the border between China and Myanmar. In addition to the remaining armed forces and landmines buried all over the villages, Mg Byar Woo learned that he had no hope of returning home in the foreseeable future. Once his home had been ruined, his family walked a long way to reach the refugee camp in Sadon, Kachin State in the north. However, a few years ago, the Myanmar Government announced the closure of camps in all districts and provided assistance to a majority of affected families. Only the Lisu people received no help from the government due to discrimination against their ethnic minority identity and Christian belief. Thanks to the help of David Fish, a senior pastor of the Flower Lisu Evangelical Church, Mg Byar Woo's family finally got sheltered. This senior pastor also assisted these displaced families in obtaining identity cards, arranging school registration for children, and even providing medicines and education subsidies.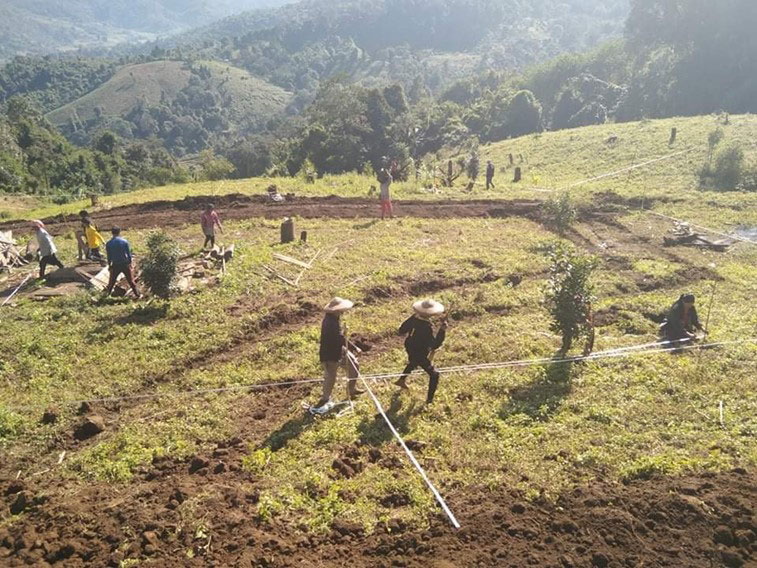 Gratefully, a compassionate person donated a four-hectare land in Sadon to the Flower Lisu Evangelical Church to serve the displaced families. In order to help Lisu families start a new life, CEDAR granted more than HK$740,000 last year to support our partner to begin a three-year community resettlement and rebuilding project. Project items include construction of new houses, water and sanitation facilities, as well as provision of medical services, livelihood and psychosocial support.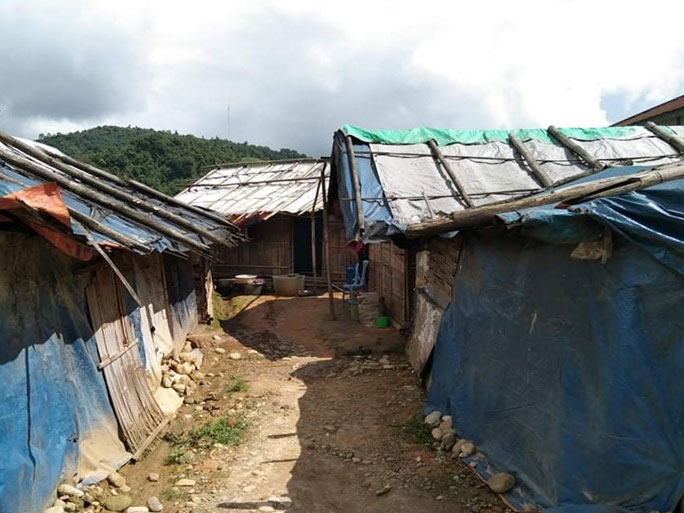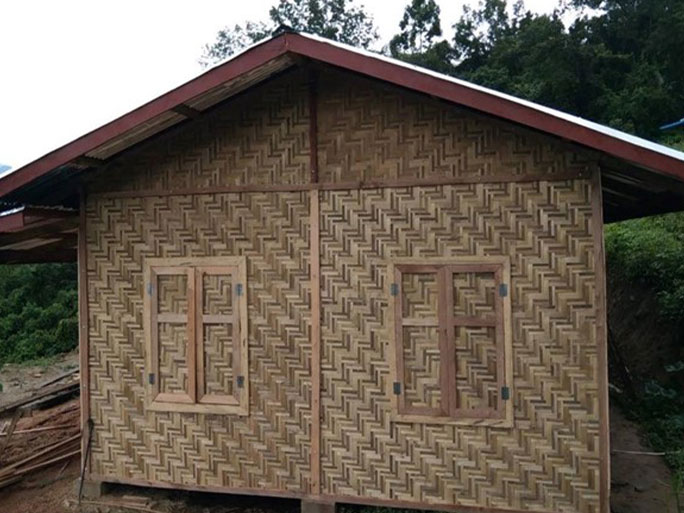 Mg Byar Woo said, 'I'm very happy! We then no longer need to flee and live in temporary housing. My new house is so close to the school and we are so happy to be able to go to school!' While gazing at his new home to-be, his face shone with delight. His nine-year-old sister prayed for their new home every day.
Ni Sat Tin Htoo (Ni Sat), Chairman of FMFF said, 'I believe this will be a pilot project for Myanmar. In the midst of darkness and hopelessness, during which different districts were locked down and banks were closed, God made a way for us, that the project's remittance and fund withdrawal were not too affected. Once a senior Myanmar official saw this project and said, "even we are in a high position, we can't help you like this way. Your God helps you accomplish this project!"'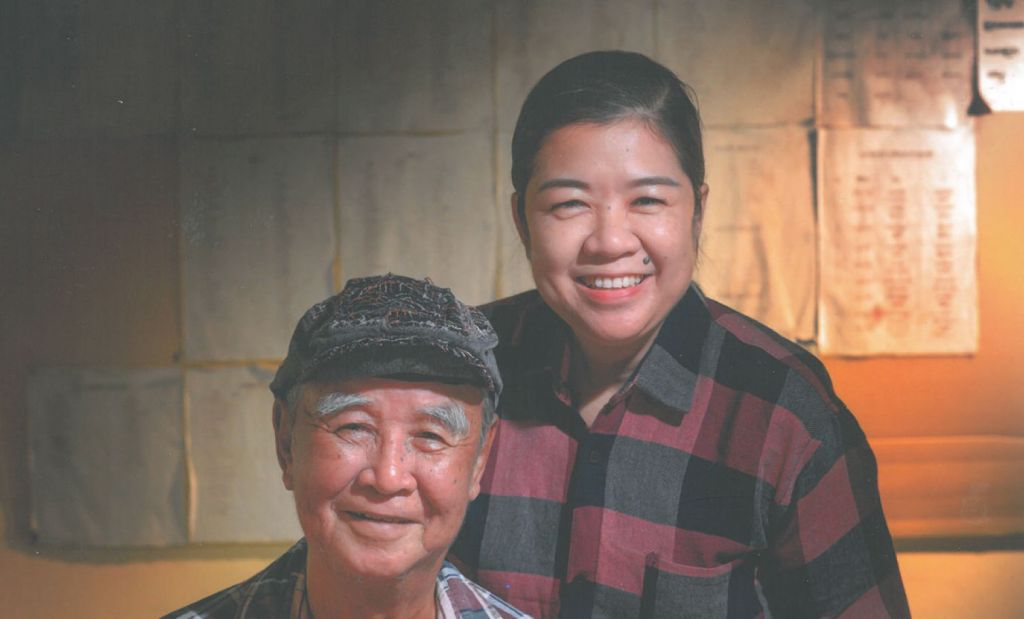 Dark but Unimpeded
Our partner spent more than two years conceiving this project. Every time Ni Sat visited these Lisu families, she would also pray with the children. When CEDAR discussed the project agreement with the partner last year, it coincided with a coup d'état in Myanmar. Since then, armed conflicts have never ceased. Ni Sat recalled that on the day of signing the memorandum with CEDAR, she heard banging gunshots from the street, 'I was really worried at that moment. How shall we implement this project? We had been praying for a year. When the project was finally approved on that day, unrests in the country seemed to put everything on hold. I could only pray to God. I'm convinced that without His will, we can't do anything.'
With God, things become possible. The project was launched amidst conflicts and the COVID-19 pandemic. One of the water tanks in the new village was already built and by the time of writing, around twenty new houses had also been established.
Through this project, God strengthened Ni Sat's faith and gave her strength to move on. As a caregiver and companion of orphans displaced by conflicts and natural disasters, she sighed,
Because of conflicts, many children have lost their parents; because of wars, many families have lost their homes and communities; because of the country's instability, many teenagers have lost their future…Children are precious, and they are our future. If they all lose hope, and if they were with you, what would you do for them?
Bereavement and Embrace Forgiveness
When Ni Sat was young, she followed her father, U Ba Hla, to take care of poor children in mountainous areas and conflict zones. In 2008, when her dearest sister and brother-in-law were carrying out community development work, they were killed by the regional ethnic armed group members. Her two nephews became orphans overnight. The death of her closest ones made her hate the armed groups. However, due to the needs of the children in the district, she continued to serve the communities. During her visits, she knew she was always in fear and felt that someone would attack her and her family – unwittingly she couldn't serve as dedicated as before and didn't think that community work would bring any expected results.
No matter how hard Ni Sat pretended to be normal, her trauma and doubts did not fade away. In 2015, she was invited to a historic ceasefire ceremony, where she would meet the General who ordered the killing of her sister and brother-in-law in the past. The day before the ceremony, she stayed up all night. 'I asked God to help me forgive but I still couldn't calm down.' Until the moment they met and talked about the peacemaking progress in areas and how they came to this stage of ceasefire, she was finally relieved and had peace, 'I remember my father said: "Only when you accept the heart of forgiveness, your life has the real peace."' With God, she forgave that General she hated the most. And amazingly, since then, she no longer felt fearful but a sense of security and strength whenever she went into those conflict-affected areas.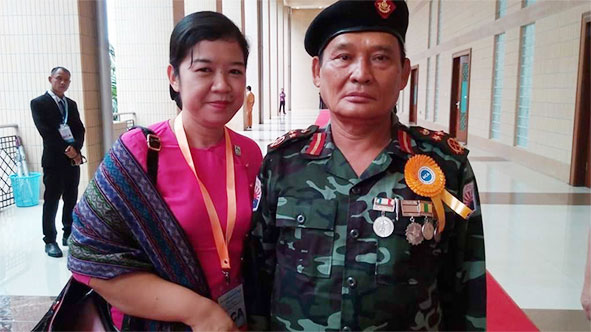 FMFF has a motto: 'One day, our children must return to their communities to rebuild their peaceful communities.' FMFF runs a children home in the outskirts of Yangon. There are currently approximately 200 children living in the home. The team teaches children to resolve conflicts by hugs and kisses. With CEDAR's support, many children in the home have grown up and become nurses, teachers and social workers. Ni Sat said that over 80 young people have returned to their hometowns where were once ravaged by conflicts. Many of them had experienced the pain of bereavement. The memories of the past were dark, but Ni Sat's example teaches them how to rely on Christ's love to go through difficulties, and to be the wounded healers to mend the wounds of communities and transform communities by development.
The road to rebuilding communities is long, and there are no shortcuts to healing people's hearts. Every year, Ni Sat reunites with young people who have returned to their communities. Some shared their struggles in the serving that whenever they were troubled, they had to get back to the origin of life – God's love and forgiveness – to regain strength.
Remark: some pictures in this article are provided by CEDAR's partner. We encourage you to support our children and youth development ministry in poor and conflict-affected areas. Please join our 'Join Hands Join Hearts' donation campaign.