This year is CEDAR's 30th anniversary. To us, it is not just a year of celebration; it is also a year of moving forward while remaining anchored on our core foundation our predecessors have laid down for us.
As our colleagues look back on the past 30 years of working with church partners to serve the poor. All have come to the unanimous decision that CEDAR's work is not simply to alleviate the poor's hunger or to give them warmth. Our work is to transform lives so that they live out the intrinsic worth and dignity given by our Lord.
"Beyond Feeding the Poor" is thus our slogan for CEDAR's 30th anniversary. It accurately illustrates the core beliefs and principles of CEDAR. We are not satisfied with granting the poor with material needs or alleviating hunger and thirst; we care about the poor's holistic development. This includes establishing the networks of the poor with their own communities, building on their connection with God and etc.
Concept of Logo
The 30th anniversary logo comprises of triangles that make up the shape "30". These triangles represent the reconciliation between God, men and the earth. The colour of the "30" also changes from grey to yellow. This symbolises the transformation of life and the transition from darkness to light.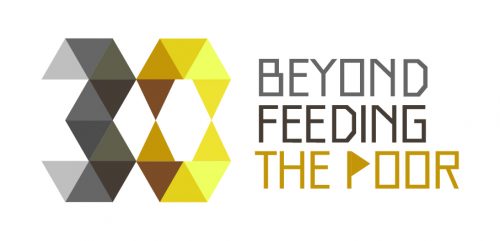 The relationship between CEDAR and both overseas and local churches is not funding agent and receiver, but partners who walk side by side and cooperate with each other. We consider the way of using the resources given by Lord important, through the support of churches, extend the community the churches serve.

Head of Partnership Development, Clara Chiu
What 'Beyond Feeding the Poor' reflects is when we are carrying out poverty alleviation work, we not only focus on the basic needs of the poor, but also going deep into their actual situation, thinking from their point of view and helping them to create a better life and living environment.  'Beyond Feeding the Poor' also remind us (poverty alleviation workers) that we should not only satisfy with the current ministry, but excavate more about God's mind and discover his footprint. When we see the poor's life changed by Lord, our pursuit and reorganization of belief will awake.

Acting Chief Executive, Chan Pui Si
the work to celebrate 30th anniversary
In 2021, we will subsequently launch a series of works and a Christian meditational platform to encourage believers to walk with us to strive towards our poverty alleviation mission of "Beyond Feeding the Poor". Our works include:
1.A Christian Devotion App "施予達仁" (Chinese only) focused on topics including justice, poverty alleviation and the integral mission.
(Listen to recommendation by Dr. Chan Nim Chung and pastor Elton Lo.) (Chinese only)
2. A music video (Chinese only) composed by CEDAR based on the theme "Beyond Feeding the Poor".
3. A two-minute short film (Chinese only) introducing the CEDAR's work and history.
4. A booklet that focuses on transformation stories of partners and beneficiaries.
Stay updated by following us on our website and social media platforms!